Supporters Membership for Nobbys Beach Surf Club
Renew your membership today or apply as a new supporter to join Nobby's Beach Surf Club for another year of unmatched beachfront experience in Queensland.
Membership Information 2019/20
Welcome to yet another exciting year at Nobby's Beach Surf Lifesaving Supporters Club! With an exciting year ahead, we hope this brochure will help you understand what you will receive as a valued Club Member
New Supporters Club Members
New members will need to complete a membership application form at our reception desk and provide staff with valid photo identification.
Renewing your Supporters Club Membership
When you visit the club to renew your membership, please ensure your email address is up to date so that we can keep YOU up to date with our latest promotions, events, members benefits and club specials.
The Supporters Club Membership Card
To commence the financial year, the club will be introducing a new Membership Card!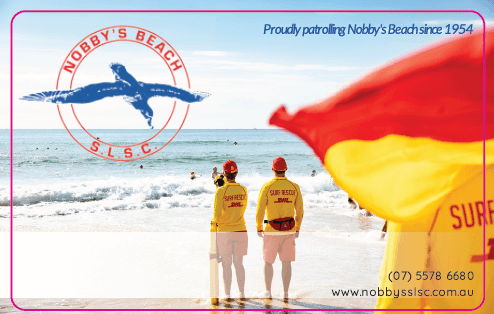 All Supporters Club Membership cards will become inactive from 1st July of each year
Supporters Club Memberships
Membership: 12 month duration
Cost: $5.00
Expiration: Sunday 30th June of each year
Supporters Club & Associate members will receive:
8% of your total sales transaction back on your members card for Beverage purchases
5% back on your card for Food purchases
Life & Patrol Club members will receive:
10% of your total sales transaction back on your members card for Food & Beverage purchases
All members receive:
A Happy Birthday Gift – 1,000 points = $10.00 on your card when you swipe your members card at the reception kiosk during your Birthday month. We look forward to celebrating with you!
Gaming VIP Room incentives – Insert your Membership Card into our Gaming Machines to receive 1 point on your membership card per $4 turnover.
Weekly & Monthly specials & giveaways – Check out our weekly e-mail with specials and giveaways exclusive to our valued members!
Entry into our weekly Major Members Draws – Please check the Clubs What's On weekly E-Blasts for updates of jackpot amounts
Members benefits promotions – Exclusive pricing on premium products, great offers & deals for members only.
Much, Much More! – Members will be kept up to date with all of the latest promotions and specials throughout the year.
What can I do with my points?
Your points can be used to purchase or discount your food & beverage purchases within the Club. Each time you make a food or beverage purchase, remember to swipe your membership card to accumulate points!
How long will my points stay on my card?
Points will reset Bi-annually:
8am 1st July – Start of the financial year
8am 1st January – Start of the calendar year
Yes – Points will reset to zero on these dates so ensure you come into the club and use your points before they expire!
Privacy Act
Membership details are handled within the Privacy Act Guidelines. All information collected by Nobby's Beach Surf Lifesaving Supporters Clubs INC. is dealt with according to the Act and information is handled & disposed of accordingly. If you have any questions regarding privacy, please contact the Club General Manager on (07) 5578 6680.
We hope to see you at the Club for 2019 / 2020 Membership renewals and we know you'll enjoy your membership rewards!
The Committee & Club Management